Media Ad Sales has drastically changed with the adoption of Dynamic Pricing and Revenue Management.

This 2019 report reveals top trends in the industry and insights on what leading Media companies are doing to thrive.

2019 MEDIA TRENDS IN DYNAMIC PRICING & REVENUE MANAGEMENT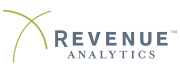 Primary research uncovers five current strategies most Media companies are enlisting

On where the industry is going, where companies are investing and what the future holds

Using third party TechValidate, our confidential survey was sent to nearly 1,000 Media leaders

A GLIMPSE INTO THE FUTURE BY INDUSTRY EXPERTS

2019 DYNAMIC PRICING AND REVENUE MANAGEMENT TRENDS IN MEDIA
There's little doubt that the Ad Sales world has changed in Media. The changing technologies, capabilities and investments in the space are making big waves.

Understand what industry peers are doing

Learn the trending tactics of modern media Ad Sales

See what industry insiders think is next

Copyright 2020 © Revenue Analytics, Inc.